As found at
Karl
's:
He and I both got 100%: how 'bout you? You as cheesy as us? ;-)
And, on a slightly related note....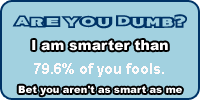 Finally, to get you to doubt yourself even more, check out
this illusion
which should help you take a step back and remember not to trust everything you perceive through your eyes!
Cheers!!