It's probably an extremely slow week for folks back home in Malaysia....
Su 29 & Mo 30 Jan= Chinese New Year

Tu 31 Jan = Awal Muharram = the Muslim New Year

since CNY Day 1 was on a Sunday, it's "carried forward" to Wed 1 Feb

... but for those in the Federal Territory (mainly KL), Wed 1 Feb = FT Day

so for those in the FT, CNY Day 1 is carried forward all the way to Thu 2 Feb!

oh, and for those who employers actually provide a day off on the Friday before a Saturday public holiday, they got Fri 27 Jan off too!


... That's pretty much a week off of work.... I bet KL's a breeze to drive through at this time!!! ... Probably no difference in drivers' attitudes, tho, no matter what the occasion :p
Anyways, the fact that CNY & the Muslim New Year happen to coincide this year, I wanna highlight something that has bugged me for ages, but I've yet to get a satisfactory answer. Why, oh why, does the Muslim calendar, which is a lunar calendar just like the Chinese or Jewish one, NOT correct for the discrepancy between lunar & solar years?
It makes no sense to me to have such an uncorrected calendar, seeing as the lunar year has a creep of 10 - 11 days: If I wanted to commemorate a battle that was won in mid-summer, I think I'd continue to commemorate it on mid-summer, not 10 days earlier every year until one day I'm celebrating it in the middle of winter. Just doesn't make sense.
Other cultures, already knowing of this creep, already have some sort of correction mechanism in place.. that is why Hanukkah always falls around X-mas time, even if it's not always the same date every year. And that is why CNY always falls sometime between late Jan & mid-Feb. They use a lunar calendar that corrects itself to line up with the solar year.
There's no way the Muslims of that time didn't know of this creep,... so why no correction??? Whenever I've raised this question, I get the feeling people think I'm blaspheming. Their answer = that's how it's been, you should not question. Sorry mate, that doesn't jive with me - I actually want to
understand
, not just swallow hook line and sinker everything that people try to shove down others' throats. Unfortunately, mosr people I know, especially when it comes to religion, prefer not to think or understand, and just do, thinking that blind unthinking obedience is what is required of them. It's really sad.
Sigh.
Anyway, moving on to *another* type of religion, kinda... it looks like I fail, LOL!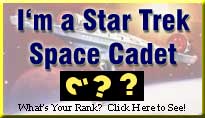 Ha ha! You don't know the difference between an Andorian and a Vulcan.
Your rank suits you: you are a space cadet.
Okay, okay, I admit I haven't seen *any* DS9 or Voyager since 1995, so couldn't answer anything relating to those shows... and I hardly know TOS.. only some TNG recently, and of course maybe the last 2 years of ST:ENT. And don't ask me the make/model number of the ships - they were all names Enterprise, as far as I'm concerned!! :p
BUT... i DO know the diff between the Andorians (blue creatures with snail's antennae sticking out of their heads) and Vulcans (those pointy-eared logical creatures!!)
Plllbbblblblbbbbbbbbb!!
Btw, thanx
SnglGuy
for the quiz link :-)